Mazar Kilim Rugs
Mazar Kilims are woven by weavers in Afghanistan. We also get kilims from Turkey and Iran.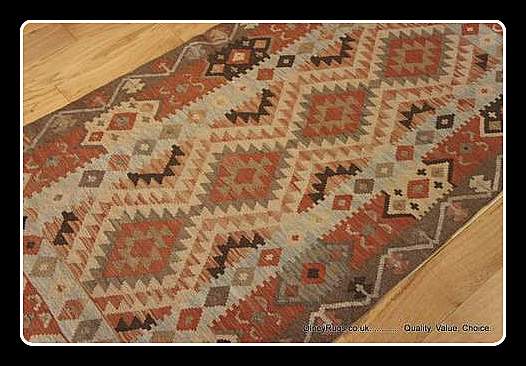 The Mazar kilims are well made rugs that will withstand quite heavy wear and tear. They are also made in large sizes up to 360 x 270. They are woven in wool on to a cotton foundation.
Kilims have all sorts of uses. Because of thier light weight they make good throws over furniture. The look wonderful as a wall hanging especially if a light can be directed across the surface to show the texture of the weave. Kilims are often re- used to make all sorts interesting things. Bags boots, wallets, clothing and so on.
A Kilim, is a flatwoven rug, taking its name from the Turkish word for prayer rug. Kilims are produced by tightly interweaving the warp and weft strands of the weave to produce a flat (i.e. pileless) surface. Because Kilims are much quicker, easier and cheaper to produce than 'standard' oriental carpets (i.e. pile carpets) they represent a good starting point for those just beginning to develop an interest in the collecting of carpets. Despite what many perceive as their secondary (or inferior) status to pile carpets, kilims have become increasingly collectible in themselves over recent years, with quality pieces now commanding the prices that their workmanship rightly deserves. What some sensed as inferiority was actually a different nature of rugs woven for indigenous use as opposed to rugs woven on a strictly commercial basis. Because kilims were not a major article of export commerce there was not foreign market pressure to change the designs as there was with pile carpet. Once collectors began to value authentic village weaving the kilims became popular.